Corrugated Profile Sheets
Corrugated Profile Sheets Datasheet
Profiled steel or Aluminium sheets are used in various roof constructions. Profile Sheets can be produced from galvanized sheet metal or Aluminium, as coil coating painted, in various thicknesses and forms. They are used as single layer without thermal insulation or, as multi-layer roof and wall applications where thermal insulation is laid down in between two corrugated sheets.
We offer our customers with Steel Roofing Solutions that are highly result oriented and quality focused. Our team of experts work closely with customers to understand their necessity and offer the services accordingly. We ensure all the services are offered within a stipulated time frame to ensure they accomplish the need of customers. Our complete range of services can be availed by our customers at market leading price.
We bring forth the finest range of Color Profile Sheets for our valued clients. Developed with advent technology, these color profile sheets are suitable to cover different warehouses, sheds and temporary houses. We offer these color profile sheets in different sizes and colors.
Applications:
Aluminium profiled sheet is 0.5 mm. up to 0.9 mm. thick Alloy A3105 – H16 Temper from tension leveled coil Different alloys can be supplied on request.
GI & Alu Zinc coated steel profile sheets 0.3 to 0.9 mm thick as per ASTM A 653 for GI & ASTM A 792 for Alu Zinc Different grades can be supplied on request.
Painting is baked regular modified enamel polyester, with 5micron primer and 20micron coat on the weathering side and 5/7micron primer on the reverse PVDF, Silicon, Modified Polyester, Plastisol & ARS coating on request is applicable.
Metal Decking Sheet
ISOTHERM Multideck Floor System High performance, profiled, galvanized steel floor decking for use in the construction of composite floor slabs. The profile may also be used as a permanent shuttering.
Metal deck is a structural panel element that acts as the surface of a floor or roof. The deck is roll formed from structural quality sheet steel and is engineered to span over joist or purlins. Variations in the thickness, shape and depth of the deck can be utilized to meet a variety of loading conditions and spans.
Metal deck flooring is typically used for multi-story buildings, mezzanines, bridge walkways, porches, in-fills, platforms and parking garages, storage facilities etc.
Applications:
Shuttering, Flooring, Wall Cladding, and Roofing
Z & C Purlins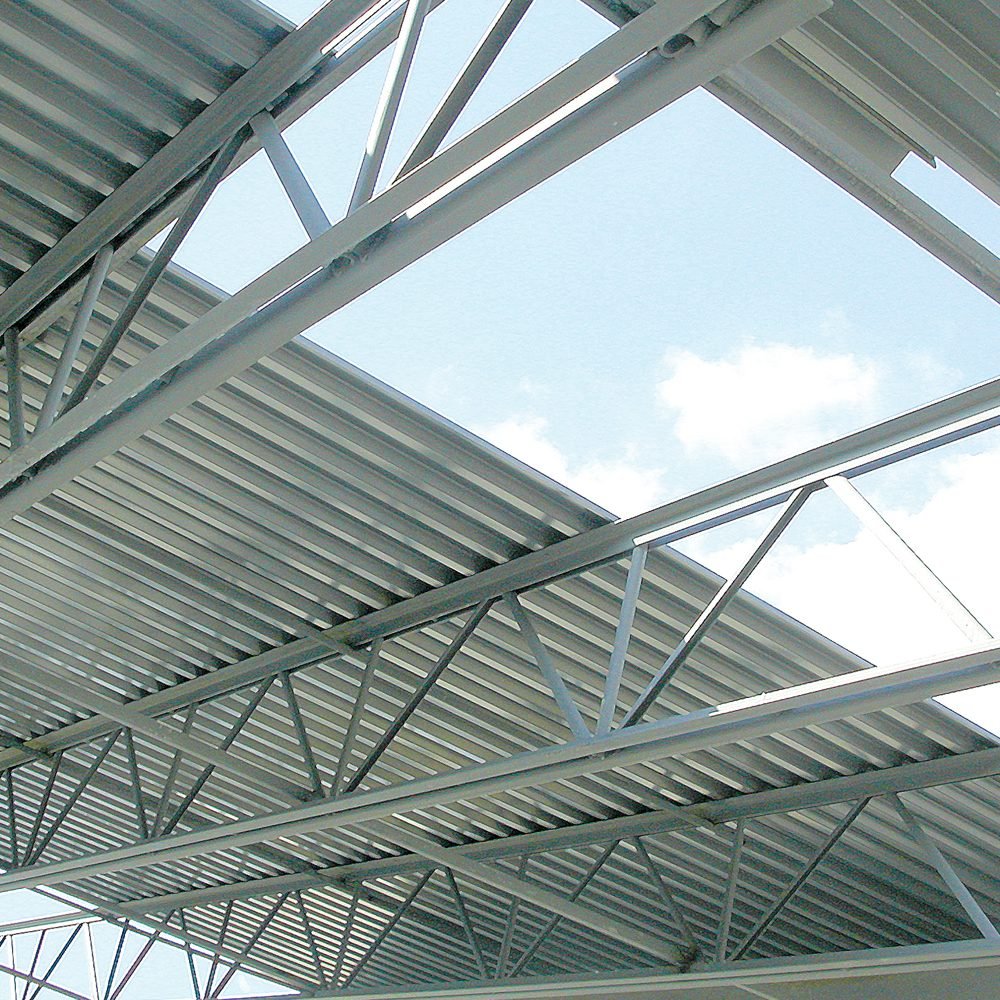 ISOTHERM Supplies a complete range of structural C and Z purlins and girts for industrial buildings, garages and carports, in fact anywhere that strong reliable steel framing is required. Manufactured from quality galvanized steel, this is a fully integrated system allowing for flexible design options.
Supplied plain or punched, galvanized purlins are manufactured from high tensile steel for increased strength, reduced weight, and a long serviceable life.
Applications:
"Z" shaped section may be used over single spans, unlapped continuous spans and lapped continuous spans in multi-bay buildings.
"C" shaped section may be used over single spans and unlapped continuous spans in multi-bay buildings. They are ideal as eave purlins or where compact sections are required.
The "C" shaped section cannot be used in overlapping structures.
Specification
All Z & C-section product is manufactured from hot dipped galvanized steel to BS EN10346:2015, Z275 coating and with a minimum yield strength of 450N/mm2.
Z-section Dimensions and Properties

The section reference of a Z-section 232mm deep and 1.8mm thick would be 232 Z 18. The first 3 digits of the section reference indicate the depth of the section in millimeters (i.e. 232 equals 232mm deep). The fourth digit is a letter that signifies the profile type (ie Z for Z-section). The last two digits indicate the material thickness (i.e. 18 =1.8mm).
Translucent Sheet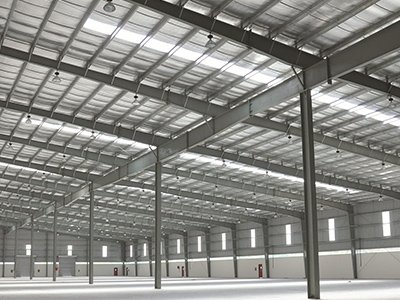 To let natural daylight into a sheeted building you can replace some of the metal sheet panels with Translucent Sheet, clear sheets made match ISOTHERM Profiles 45/250. Our clear roof sheets are made from high grade GRP glass fiber and Polycarbonate of 1.0/1.5/2.0 mm thickness, offering extremely high impact resistance, minimizing the risk of breakage. They let in diffused daylight at a transmission rate of over 75% and give excellent flexibility and light stability, featuring a protective polyester film bonded to both surfaces preventing moss and lichen growth and discoloration as well as protection against the degrading effects of ultra-violet radiation in natural sunlight.
Applications:
Translucent sheets are used where moderate corrosion protection and weathering characteristics are required. This panel can be used in such application as refineries, pulp and paper mills, mining operations, wastewater facilities, fertilizers plants Roofing, warehouse, car Shed, swimming pools, gardens, walkways and cladding for structures, industrial facilities public building etc.
Double Layered GRP Translucent Sheet
GRP Double Layered Translucent sheets are manufactured by using U.V stabilized clear thermosetting polyester resins of translucent grade. These sheets allow an evenly distributed daylight to pass into factory sheds, warehouses, commercial buildings etc. with good thermal insulation, are non absorbent of hydrocarbons and are suitable for the climatic conditions of high temperature in both double and single skin forms. Double layered sheets have comparatively better insulation properties and are normally used with Sandwich Panels.
Flashings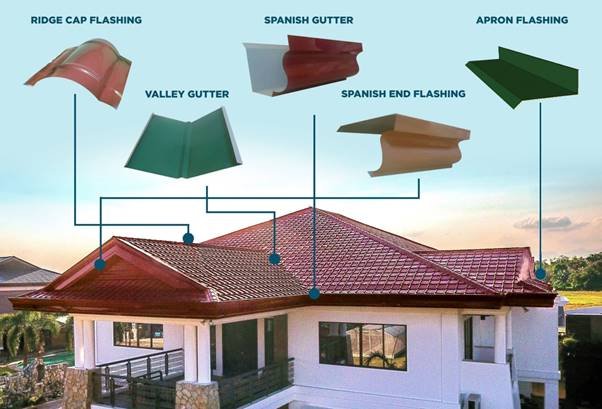 ISOTHERM can manufacture can fold a wide range of standard or customized flashings to suit your requirements. Flashings are available in pre-painted steel, zinc/al, aluminium, mill finished galvanized. Choose from a wide range of available thicknesses from 0.3mm to 2.0mm.
Gutters
A square or rectangular gutter that is used within the boundaries of the roof. It may be formed between a roof surface and a parapet wall or between two roof surfaces. Available with enfold, out fold, splash back and squash fold edges. This gutter is usually supported on a box gutter board to improve strength and stiffness and to minimize damage caused by roof traffic.
Eave Gutters
A purpose made external gutter which is located at the edge of an industrial roof. It is usually supported by heavy gauge brackets that have been designed specifically to suit the industrial eaves gutter shape. When made in larger sizes special attention should be given to minimizing oil canning of flat surfaces by adding extra ribs into the design.
Valley Gutters
A shallow gutter formed to suit the angle between two internal slopes of a roof. Its design will usually include a return at each edge to minimize the possibility of water spillage into the roof space. Depending on the size and application additional internal stiffening ribs may be included.
Corner Flashings
A folded piece of steel used for waterproofing wall sheeting where two walls meet to form an external corner. Where used with steel sheet walling it should lap at least one rib and a recommended two ribs for maximum water proofing.
Apron Flashings
A folded piece of steel used to prevent water from penetrating the space where a vertical surface intersects a roof. Where used with steel sheet roofing it should lap at least one rib and a recommended two ribs for maximum water proofing. Wider apron flashings are advised when the base of the flashing faces into the prevailing wind.
Ridge Flashings
A steel covering over the ridge to provide a continuous cover and effective weather seal between two slopes. The size of the edge break should conform with the rib height of the steel roofing to which the ridge is attached.
Good roofing practice is to notch this edge break to neatly fit around each rib of the roof sheet.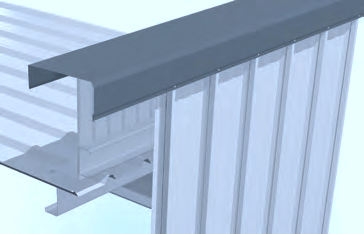 Parapet Capping
A covering used to waterproof and cap the ends of vertical sheets or masonry walls. A stiffening edge or break is often applied to the legs of the parapet cap for a more appealing appearance, and to minimize oil canning
of the steel. Ensure that these recommendations are considered when measuring the flashing. It is also important to ensure that water does not pool on top of the cap, to prevent water seeping into the building.
Barge Capping
A folded sheet used to waterproof the junction between a fascia or barge board and roof sheeting. The size of the edge break should conform with the rib height of the steel roofing to which the ridge is attached.
Accessories