ISOTHERM Roof and Wall Panels are composite prefabricated panels, consisting of two layers of metal facers and PUR/PIR insulation core between the facers.
ISOTHERM panels are versatile cladding products, allowing for use in: Roofs, External Walls and Partitions.
Panel thicknesses available range from 40 to 200mm, capable of meeting and exceeding local & International building regulation requirements.
ISOTHERM specialized in production, sales and export of Polyurethane (PU) & Polyisocyanurate (PIR) Insulated Sandwich Panel & Rockwool. Sandwich Panels are produced in a continue line with 3 types of insulation materials including such as, Polyurethane (PUR), Polyisocyanurate (PIR) & Rockwool insulation thicknesses. As external and internal surfaces of sandwich panel painted galvanized, galvalume, Alu-zinc, stainless steel, Painted or natural aluminium/Steel materials can be used.
They are manufactured as polyester, plastisol, PVDF and food safe painted according to the needs of the Project. They can be manufactured in all RAL codes. ISOTHERM Insulated Roof and Wall Sandwich Panels are responding all needs such as thermal insulation, air tightness, hygiene, aesthetics, fire insulation.
Advantages of using ISOTHERM sandwich panels are:
Excellent thermal insulation. Thermal conductivity of panels with polyisocyanurate foam core is λ = 0.023 W/m2K.
Excellent protection against weather conditions, maintaining properties and appearance for many years. When coating is properly selected according to local conditions, several years' durability of panels can be reached without any problem.
Complete seal against precipitations, snow and dampness. Perfectly finished joints ensure complete waterproofness for many years, if installation standards are followed.
Sound absorption. Properly selected core material can give perfect noise insulation parameters. They are particularly important if insulation of outside noise, reduction of industrial noise propagation to the outside of the building or noise reduction within the building is required.
Fire resistance properties according to the needs. Using proper type of core can ensure the fire resistance. This enables protection of escape routes and separation of fire compartments from each other.
Good strength parameters. Roof panels can withstand the load of snow and wind depending on their thickness and climatic zone, with supports' span of more than 3 m. In most cases, wall panels can be used with supports' span of up to 6 m. This results in real savings in terms of the supporting structure, and thus overall costs of the entire building.
We have managed to combine all the above benefits to the user with benefits to the natural environment. Total power input in the production of the material used for thermal insulation of the building, on average, pays for itself after two or three years from installation.
Download Datasheets
Roof And Wall Products
ISOTHERM 45/250
The ISOTHERM 45/250 Profile is a trapezoid formed roof panel, through-fixed on the side-lap joints. An all-rounder roof cladding suitable for use in all buildings with roof slopes. The 45mm high ribs provide improved strength, Air and water-resistance.
| | | | | | |
| --- | --- | --- | --- | --- | --- |
| t: Core Thickness (mm) | 50 | 60 | 75 | 100 | 150 |
| Weight – Steel (kg/m2)2 | 10.70 | 11.10 | 11.70 | 12.70 | 14.70 |
| Weight – Aluminium (kg/m2)3 | 5.80 | 6.20 | 6.80 | 7.80 | 9.80 |
| U value – PIR (W/m2K)4 | 0.36 | 0.31 | 0.25 | 0.19 | 0.13 |
| U value- PUR (W/m2K)4 | 0.40 | 0.34 | 0.28 | 0.21 | 0.14 |
1 Based on 0.50mm thick facers
2 Based on 0.70mm thick outer and 0.50mm thick inner facers
Specifications :
Insulation Core:
The core of ISOTHERM panels is an environmentally sustainable rigid PUR/PIR insulation foam.
available in:-
Civil Defence Approved Fire-Resistant Polyisocyanurate (PIR) foam
Flame retardant (PUR or PIR) B2 class
Polyurethane (PUR) B3 class
Having properties as,
Density : 40 ± 2 kg/m3
Thermal Conductivity : λPUR = 0.023 W/mK1 & λPIR =0.022 W/mK1
> 90% Closed Cell content
The blowing agent used in ISOTHERM panels is environmentally friendly pentane gas with Zero Ozone Depletion Potential (ODP) and Low Global Warming Potential (GWP). It does not contain CFC or HCFC.
Metal Facers:
The standard substrate for Internal and external facers are prepainted and hot-dip galvanised steel.
Thickness : 0.50mm
Steel Grade : Grade 'D'
Zinc Coating : Z275 or Z200
Top coat : Polyester, 25 Microns thick
Colour : RAL9002/RAL 9003/RAL 1001
Surface Protection : Nylon film.
Variations are possible in the surface material specifications to suite a wide range of specialized applications:
Thickness Options : 0.40mm to 0.80mm
Substrate Options : Aluzinc-coated steel, Stainless steel (SS 304 or 316), Aluminum
Top Coat Options : PVDF, Multi-Layer PVDF, High Durable Polyester, Food Safe, Plastisol.
Colour : Any colour from RAL Chart.
High Durable Polyester coating is suitable for increased resistance against corrosion and harsh whether.
PVDF coating is suitable for external applications where higher resistance against corrosion, colour fading and harsh environment conditions is required.
Plastisol coating is suitable for internal applications for non-contact level food safety and where higher resistance against washing of surfaces is required.
Food Safe coating is suitable for internal applications for contact level food safety with anti-microbial properties.
Surface Profiles:
ISOTHERM 45/250 corrugated profile on the external side respectively and as standard Low Rib profile on the internal side.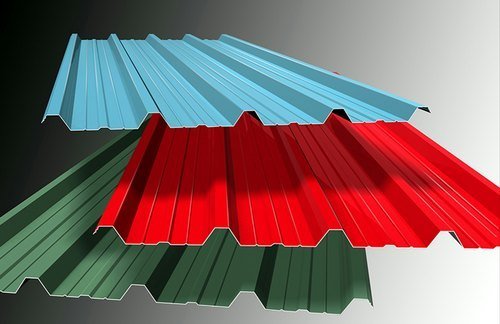 ISOTHERM Roofs are built on Trust & Commitment